Fiverr Review 2020 Top App for Hiring Freelancers (Updated)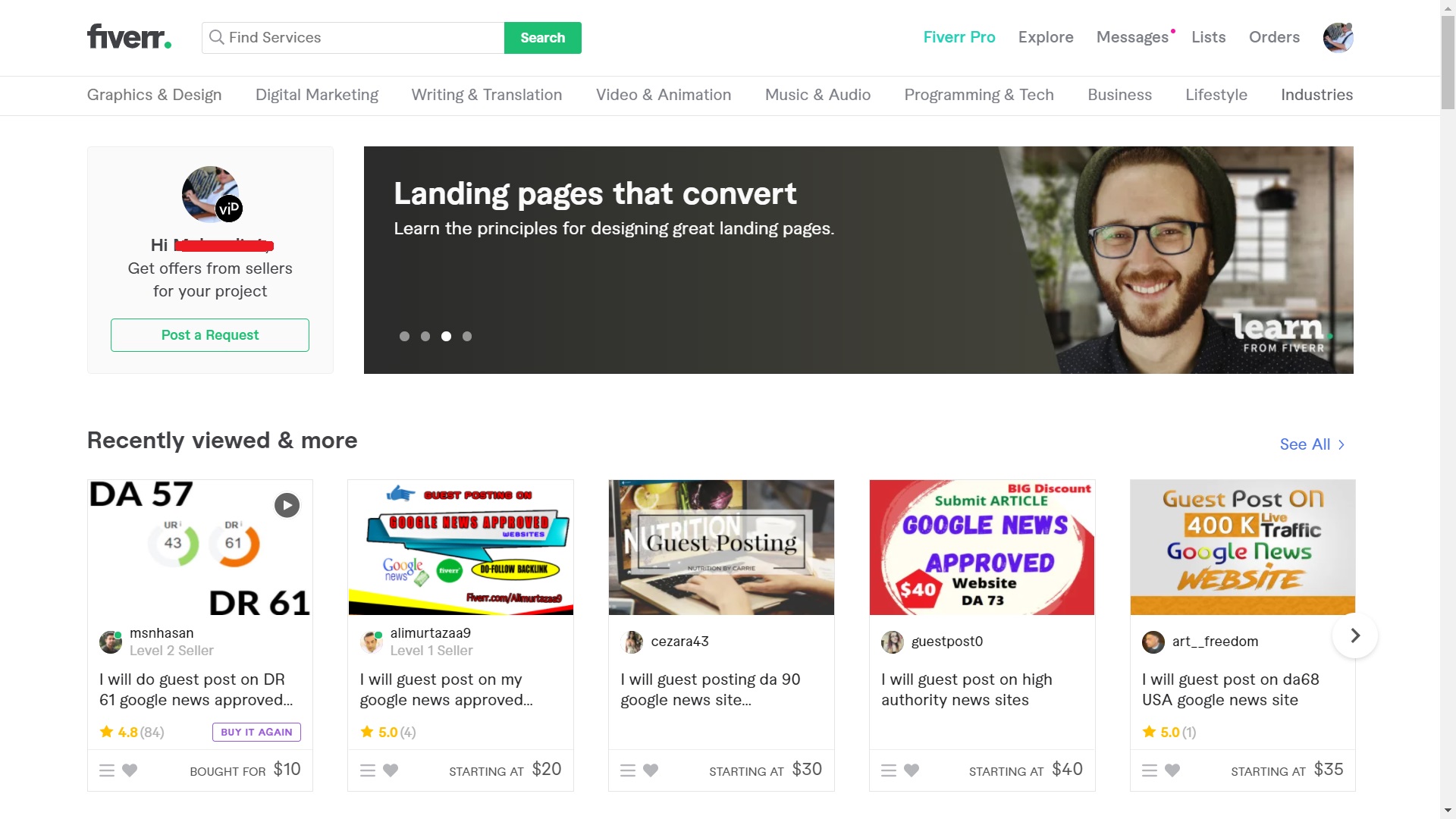 Fiverr user interface
Looking for Fiverr reviews? Then this is where you absolutely need to be.
In this review, we will try to expose the facts about this popular freelance marketing platform to help you decide whether it is right for you or not.
Did you know?
Analysts revealed that in the near future, we'll be having a workforce that is 50% freelance by 2025 and if you don't want your business to get left behind then you need to know where to get the best talent and one of the most reputable online marketplace for these digital services today is Fiverr.
What is Fiverr?
Here's the deal:
It is one of the most established marketplace if you are looking for freelancers to hire. Via their website, you'll be able to find various services at very affordable rates for as low as $5, hence the name Fiverr.
In terms of numbers, they have over a million users from across the globe making them of the largest in this industry..

How does Fiverr work?
Fiverr has an advanced but user-friendly online platform which you can use to search for the right talent and service.
There's no way that you'll get lost even if you're new to the system since the interface is as simple as it gets.
Registration takes only a few seconds by using your Facebook or Google account or you can do it the traditional way by using an email address. If you want to register, you can click the button below to join:

Once that is settled, you can now browse through an endless list of freelance jobs or get offers from sellers for your project by posting a request.
You can peruse the profile of potential users that you'd like hire and if you've decided to accept their offer, you can pay for their services using the supported payment methods:
Credit/debit card
Apple Pay
iDEAL
PayPal
The next step is to check the work and if you're not satisfied, you can communicate with the seller so they can make it better.
And finally...
When the job is finished and it has passed your requirements, it' a done deal!
The infographic below summarizes the steps that we just talked about: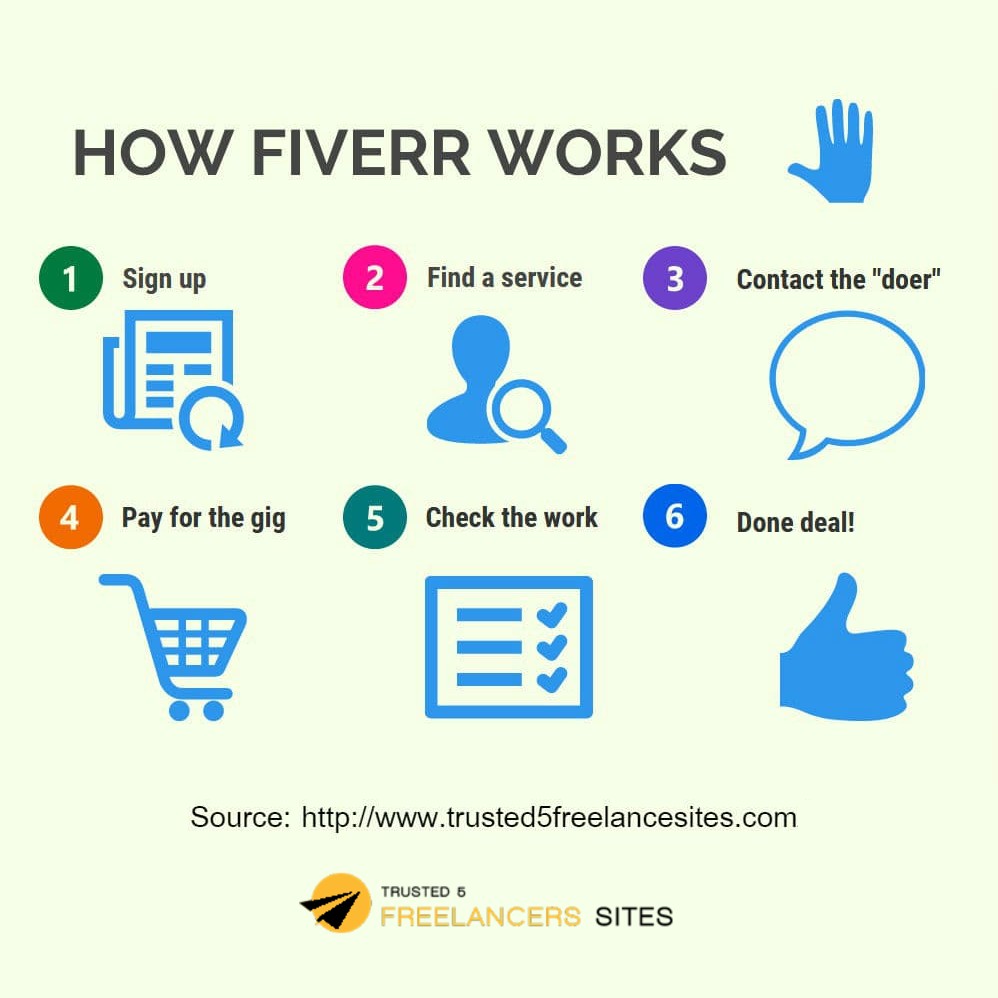 How Fiverr works
If this is your first time to do this then you need to know first what is a freelancer.
To keep it simple:
A freelancer is someone who offers their services for a fee and who doesn't work for one company full-time.
What sells on Fiverr?

Since Fiverr has a global coverage, expect that to browse through a long list of profiles and check out their portfolio to see if their skills and experiences are matched to your needs.
These are the main categories that you will find in their catalog:
Graphics & Design
Digital Marketing
Writing & Translation
Video & Animation
Music & Audio
Programming & Tech
Business
Fun & Lifestyle
Industries
Look: This list may appear limited but mind you, that's just the surface.
Just to give you an idea, let's take Graphics & Design as an example. This alone covers a lot of gigs such as:
Logo & Brand Identity

Visual Design

Web & Mobile

Print Design

Gaming

Art & Illustration

Packaging & Labels

and the list goes on and on and on…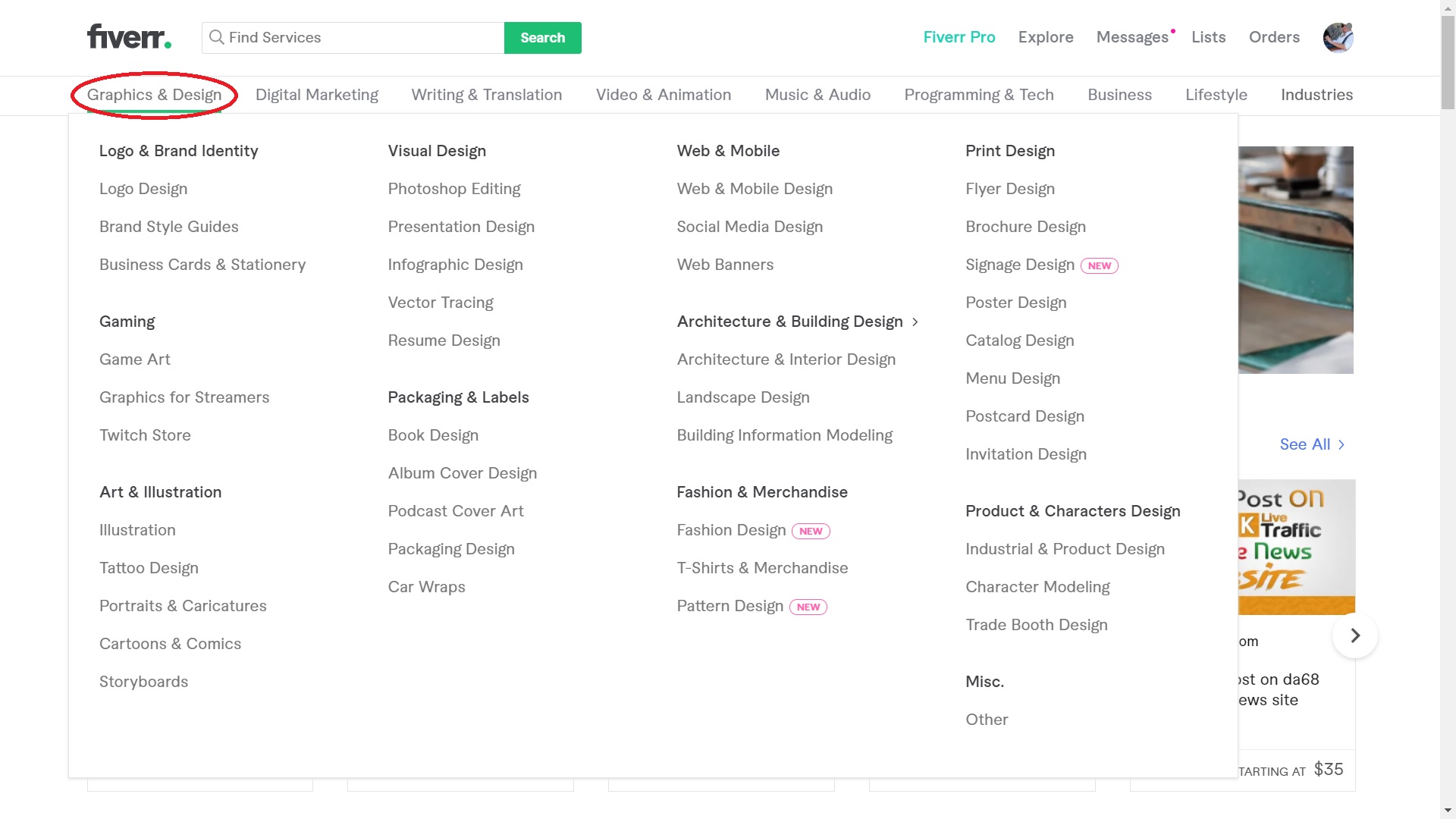 A preview of Fiverr's Graphics & Design sub-menu
So what does this mean?
This basically means that you can find almost any scope of service from freelancers. You will be able to hire web designers, web developers and other work-at-home jobs.
When you compare Fiverr vs Truelancer, the former still has huge advantage over the latter.
How can you actually use this?
You can simply go to one of the categories, enter the sub-categories, and you will be able to see the available services offered.
Alternatively...
You can use the search tool and filters if you wish to find a specific service or seller and don't want to go through the long list if industries.
The downside?
It's possible that some registered users don't have a detailed portfolio.
You might have just stumbled upon the profile of an exact match but since they are too lazy to list out all of their experiences or post samples of their work, you'll miss this opportunity to hire them.
On the flip side…
Since Fiverr has a huge population of freelancers, there's a diverse range of choices so there's a high chance that you'll be able to find the next best person who can do the job and it's possible that they have a comprehensive profile for you to look at. Problem solved!
Here's a sample of a Fiverr gig with details: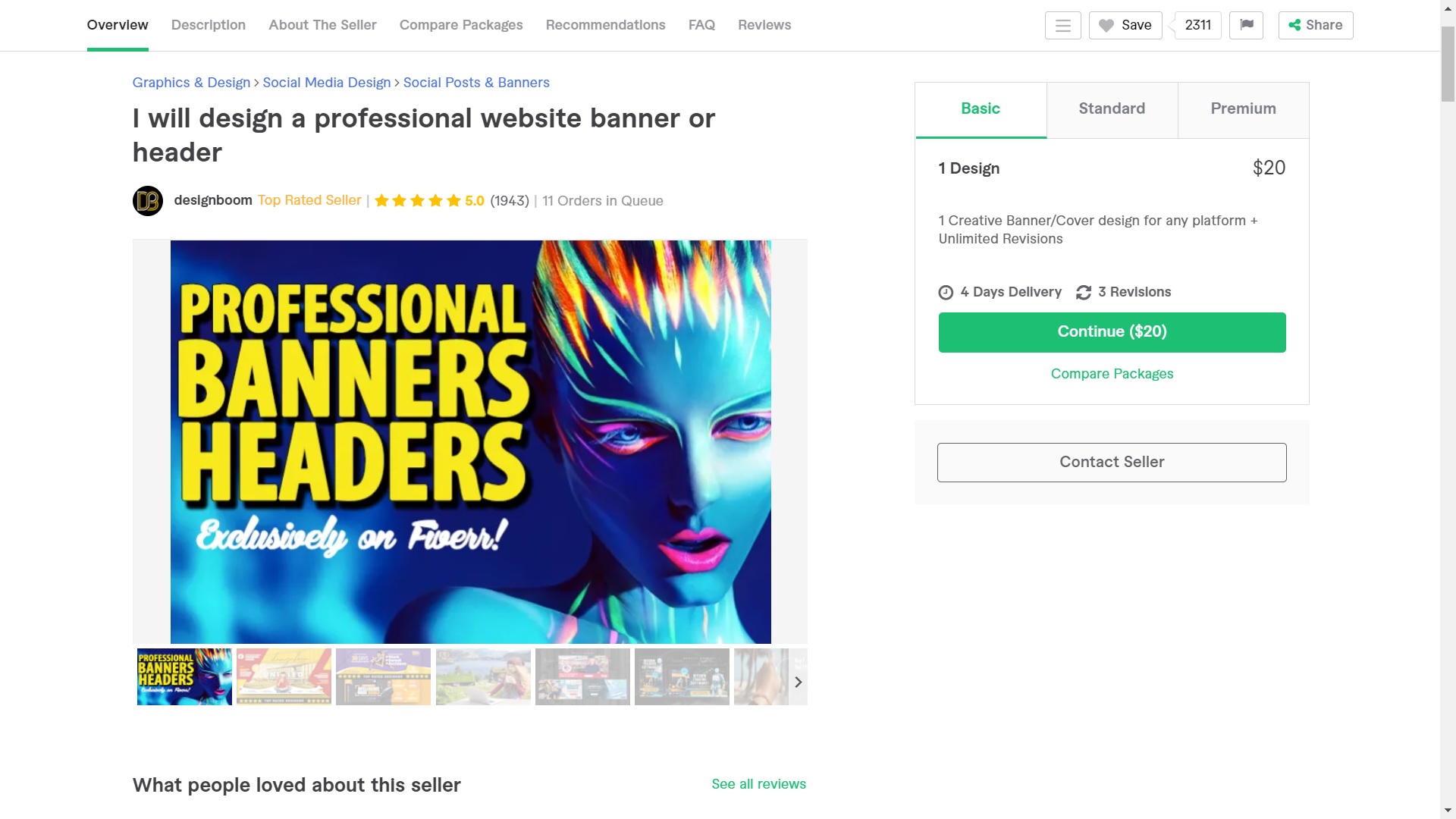 A sample of a seller's profile in Fiverr
As you can see, this user has done a good job in customizing his portfolio so you can check out his work, browse his rates and all the inclusions of his packages.
This is just one of the many profiles that you will find on their platform. Most of them are very detailed and will have all the information that you need.
How much does Fiverr charge?
As the name suggests, most of the basic jobs at Fiverr usually just cost $5 but some users include add-ons which could increase the price of the work if you avail them.
Details of a Basic package in Fiverr
Some can even do the job in less than 24 hours but you need to check the order description if this is free or it comes with a premium.
Here's the deal:
All purchases are subject to processing fees. For gigs that have a price of up to $20, the fee is $1 while gigs above $20 will have a 5% fee.
In comparison to their rivals, Fiverr's fees are still much more competitive and much more cost-effective.
Overall, we find these fees to be reasonable as compared to other services that have much higher rates.
But take note:
Some freelancers offer different packages which are also worth checking out because they might just have everything that you need.

It would be wise to allot just even a few seconds of your time to check these packages as this could save you more on the costs. You'll be surprised how skilled these "doers" are.
Checkout this interesting sample package that we found:
Comparison of different packages in Fiverr
Now, let's talk about customer service
We've done a background check and found out that their headquarters is in Israel:

Fiverr International Limited:
12 HaOmanim St., Tel Aviv, Tel Aviv, 6789731
+97236317882

A service like Fiverr won't be as huge and successful if not for their excellent customer support.
That means they have real people that you can get in touch with if you need help or some kind of assistance.
Aside from the feature where both clients and artists can leave feedback to each other, they also have a detailed help and education page and a Zendesk support center to resolve any disputes.
Why does this matter?
Because this will allow you to make hassle-free transactions and get protection in case you encounter some issues with the seller.
You know for a fact that you could be dealing with someone who's based halfway across the globe so there has to be some kind of assurance that you will be able to get what you paid for, right?
If you have ordered and paid for something and you're not satisfied with the service or the job hasn't been completed, you can take advantage of the buyer protection.
One option is by contacting the seller on the order page or you can cancel the order via the resolution center. If that doesn't solve the problem, you can get in touch with the support team and ask them to step in so you can get a refund.
Fiverr's help and education center
But that's not all…
The have a fun and active forum where you can discuss and rate your experiences with the sellers and their gigs.
It's a great way to interact not just with freelancers but other clients as well. Who knows, you might even get a good tip on who to hire for your next project.
Fiverr's interactive forum
Bottom line?
Without a doubt, Fiverr is the go-to site if you're looking for tons (and we mean tons) of options for freelance jobs.
What they have is an advanced but extremely user-friendly platform where you can browse through an endless list of gigs and services.
The best part?
These services can be availed at rock-bottom prices! Not only they are cheap but are also comparable in quality to professionals that usually charge hundreds and even thousands of dollars.
Latest data revealed that freelancers are winning the war for talent and if you don't want your business to get left behind then you need to know where to get the best talent and one of the most reputable online marketplace for these digital services today is Fiverr.
Clearly, this is the website where you can find an abundance of choices with considerably lower costs. All you need to do is pick the one that matches the requirements for your project or business.
How to Register With Fiverr?
Registration is really simple the process will only take you less than a minute. Regardless if you're a buyer or a seller, you can click the button below to join:
Now It's Your Turn
Let us know your thoughts by leaving a quick comment below.